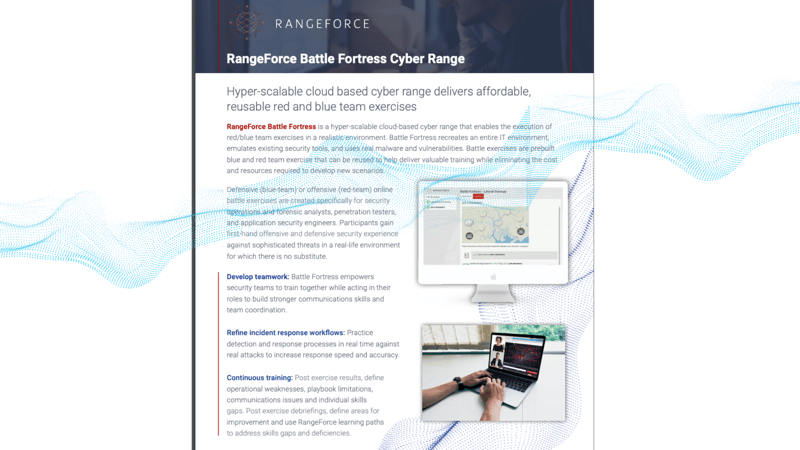 [Demo & Free Trial] Battle Fortress Cyber Range
Find out more about how the
Battle Fortress Cyber Range helps r
emote cybersecurity teams to create and spin up advanced blue/red team exercises for continuous training at enterprise scale, using their own re-usable security stack.
Battle Fortress is the only cyber range that is fully integrated with a hands-on skills training platform and enables security professionals to practice working together to stay ahead of pandemic-related and other cybersecurity threats.
What you Get with the Battle Fortress Cyber Range
Real life cyber attack simulation
When a Battle Fortress exercise starts, teams are thrown into high-intensity attacks where revenue and reputation are on the line. Scenarios are as 'real' and complex as possible, so you feel like you are fighting on the frontlines.
Attacks are taken right from the headlines
Battle Fortress exercises include advanced attacks like Shellshock and Heartbleed and adversary techniques like XSS, backdoors, lateral movement, network reconnaissance, DDOS, and rootkits.
Working with your existing operations, processes, and technologies, security teams must work together to find, identify, contain and remediate the attack.
Quantitative and qualitative analysis of teamwork
The final part of the exercise is a team debrief where strengths and weaknesses are identified, processes are improved, and training is more focused so that teams continuously improve.
Fast, safe, and scalable environment
RangeForce simulations are hosted on a cloud-based platform that allows IT professionals to experiment with complex attacks in an isolated and safe environment.
Fast setup, easy operations
With RangeForce, you can spin up a new Battle Fortress exercise in just a few hours. Gone are the heavy operational costs of managing a cyber range or preparing for your next blue team exercise. RangeForce delivers online and onsite sieges for testing teamwork or individual skill level at competitions
Sign up for a demo and free trial