Discover the RangeForce CyberSkills Training Platform
The RangeForce CyberSkills Training Platform will immerse you in hands-on lessons that teach how to detect and respond to the latest cyber threats and system vulnerabilities. A cloud-based, on-demand, SaaS environment means learning in place with no complex setup or hardware requirements.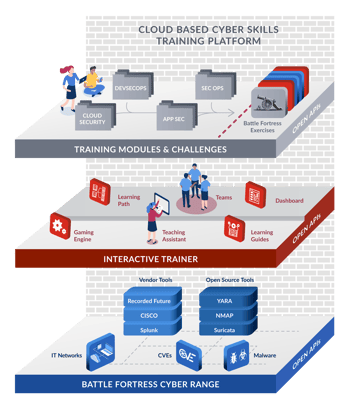 Advanced training features include:
Realistic network simulations
Automated "blue team" attack bots
Integrated gaming engine, challenges, and leader boards
Virtual teaching assistant and learning support
Comprehensive reporting and management dashboards
100+ role based training modules: security operations, web app security, IOT, ICS, DevOps
Modules mapped to OWASP, NIST & MITRE frameworks
New modules released monthly
RangeForce CyberSkills Platform Use Case Coverage
Accurately Assess Candidate Skills
Utilize training modules to assess the true skills of new candidates for employment or higher education programs. Objectively identify the best qualified candidates and avoid the costs and pain associated with bad hires.
Identify new talent
Security experience is in short supply. Identify your most talented IT and security staff, cross-train and upskill those employees in cybersecurity defense, and build a sustainable cybersecurity team.
Continually hone operational expertise
Identify the skills that each employee has mastered and those which need to improve. With over 100 modules, and new ones added weekly, your employees can stay up to date with the latest threats and vulnerabilities.
Learn how to identify and fix vulnerabilities
Learn to recognize and mitigate vulnerabilities in web applications that are exploited by formjacking, cross-scripting, and sequel injection attacks reducing the risk of a successful cyberattack and data loss.
Reduce Training Costs
Existing classroom-based cybersecurity training is costly, inefficient, and often ineffective. Creating a simulated training environment or cyber range is cumbersome, expensive, and complex. RangeForce delivers a cloud-based asynchronous training platform and integrated cyber range for pennies on the dollar. Our customers report annual savings in the hundreds of thousands of dollars.
Benchmark and report performance and skill levels
Benchmark performance against NIST/NICE and MITRE ATT&CK frameworks. Visualize individual and team progress through reporting dashboards. Report progress against cyber risk and resilience programs.