Cybersecurity Team Training: A RangeForce Deep Dive
In the rapidly evolving world of cyber security training, RangeForce stands out. It's not just about offering another skills platform; it's about redefining how we think of and build our cyber workforce readiness.
So why does this matter? Because traditional classroom-based training can't keep pace with the latest threats or align with industry frameworks quickly enough. The answer lies in providing immersive, real-world scenarios that mimic emerging threats so learners can apply their knowledge instantly.
Sound intriguing? Let's take a journey that will reshape how you think about cybersecurity training. We'll dive into why RangeForce provides a critical component in building resilient teams ready to tackle any emerging threats or hackers.
If you're looking to boost your team's skills and move the needle on true cyber readiness, this is the place for you.
Building Cyber Readiness & Transforming Cybersecurity Teams
Confronting the newest cyber threats necessitates more than just intellectual comprehension. You need actual experience, fast reasoning, and strong problem-solving aptitudes. This is where RangeForce comes in: providing an interactive environment where learning becomes engaging rather than daunting.
Your team gets exposed to real-world scenarios that help them understand how attackers think and operate. But what makes this possible? The answer lies in our gamified cyber skills content that delivers challenge-based training designed around industry frameworks such as NIST/NICE and MITRE ATT&CK and D3FEND. The content isn't just about learning—it also measures understanding and progress at every step.
RangeForce equips your teams with the ability to tackle emerging threats, building robust cyber capabilities that can adapt and grow. By integrating the latest threat intelligence, we ensure you're always ahead of the curve when addressing emerging threats.
Inside RangeForce
What makes RangeForce stand out from the rest? Well, it's like comparing a virtual reality game with a basic 2D arcade one. In the former, you are thrown into real-world scenarios where every decision matters—just as RangeForce simulates actual cybersecurity threats.
A standout feature of RangeForce is how we use the latest threat intelligence to keep the content up to date. This means users can get firsthand experience dealing with emerging threats and industry frameworks often seen only in top-tier cybersecurity teams.
Challenge-Based Skills Content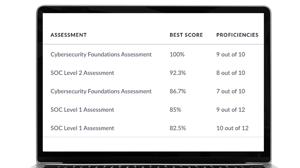 In today's rapidly evolving digital landscape, there's no room for theoretical learning alone; practical application is crucial. That's why RangeForce offers challenges mimicking real-life situations. Think escape rooms, but for honing your cyber skills.
Remember when we used flashcards to learn new words or equations? Consider these challenges as interactive flashcards on steroids: engaging yet effective tools that help learners grasp complex concepts faster than traditional methods.
Tailoring Cybersecurity Training for Individuals and Organizations with RangeForce
The rapidly evolving world of cyber threats demands an equally dynamic approach to cybersecurity training.
A standout feature of RangeForce is its ability to adapt the training content based on user needs. Whether your team is mostly junior analysts or deeply experienced pros (or, likely, a mixture), RangeForce lets you pick from an extensive range of cyber labs tailored for different experience levels and specializations.
The benefits extend beyond just personalized learning paths. With its challenge-based skills content delivery system, RangeForce ensures that learners are not just consuming information but actively engaging in problem-solving exercises replicating real-world scenarios. It provides more than just theory; it offers practicality as well.
Gamified Learning: A Key Differentiator
Making learning fun yet effective can be quite a balancing act. But with gamified cyber skills platforms like RangeForce mastering complex topics becomes less daunting. The element of competition keeps users motivated while they navigate through various threat intelligence challenges such as reverse-engineering malware or infrastructure hacking tasks - all designed keeping industry frameworks in mind.
Blue Team Threat Exercises

What are team threat exercises? Think about it as a pre-season scrimmage or friendly: A chance for a team to practice their skills, teamwork, and ability to respond in the same format as the real thing – but with no dire consequences. The learning modules are like a virtual gym for your cyber skills, a place where you can strengthen those cybersecurity muscles.
Just like a real fitness regime of training and practicing, labs and modules offer all the gear and resources your team needs to get stronger. But instead of a court or a gym, we're talking hands-on labs and real-world attack scenarios. It's a game-changer in training our minds against cyber threats.
Unmatched Access & Scalability
No matter where you are located – the United States or Switzerland – our virtual labs can be seamlessly accessed online anytime without any installation requirements or endpoint/network configurations. Be it improving incident response tactics against latest threats or enhancing CVE knowledge, there's always something new to learn.
Comparing RangeForce with Other Cyber Skills Platforms
In the dynamic world of cybersecurity, it's essential to make informed choices about which platforms best meet your needs. Let's consider how RangeForce compares with other cyber skills platforms.
RangeForce Vs Others: A Feature-by-Feature Comparison
The unique approach that RangeForce takes to training sets us apart from others. We deliver challenge-based skills content in real-world scenarios, allowing users to learn and apply new techniques simultaneously.
For example, where many providers use a traditional course format, RangeForce uses hands-on cyber skills challenges. This means you're not just reading about threat hunting or reverse-engineering malware; you're actually doing it.
Our platform also provides access unmatched by most competitors. RangeForce content can be seamlessly accessed anytime and anywhere, helping organizations build their cyber resilience effectively.
Apart from this unique feature set that offers hands-on experience on the latest threats through an intuitive interface, the RangeForce founders bring a uniquely specialized background working with the NATO cyber range. This deep industry knowledge is reflected in the platform's ability to align training content with the latest threat intelligence and industry frameworks.
In comparison, other platforms often lack this level of detail or real-world applicability in their skills content.
To sum it up: while many options exist for cybersecurity education, few can match the comprehensive features, accessibility, and real-world application offered by RangeForce
The Cost-effectiveness and ROI of RangeForce
What makes RangeForce stand out in terms of cost-effectiveness? It all boils down to our learning experience. Our research-backed format lets users learn at their own pace, reducing costs associated with traditional classroom-based training or hiring external consultants. Moreover, by building internal cyber readiness, organizations can reduce reliance on expensive third-party security services.
Tangible Benefits in Defensive Posture
There are tangible benefits to defensive posture when investing in RangeForce for enhancing your organization's cybersecurity posture.
A more robust defense against the latest threats, resulting from improved incident response times
Growth in talent & systems integration leading to better resource allocation
An uplifted workforce equipped with practical knowledge acquired through real-world scenarios and emerging threat intelligence
While initial investments may seem hefty for some businesses contemplating comprehensive cyber resilience solutions, the ROI is there. It's not just about dollars saved, but also building a robust and resilient cyber workforce that is truly ready to face any challenge thrown their way.
A New Era for Building Cyber Capability
Beyond delivering top-notch cybersecurity team training, one crucial advantage offered by RangeForce is our role in change management within organizations seeking digital transformation, leading to greater resilience against future challenges.
If staying up-to-date with the latest threats and transforming your cyber workforce into a truly cyber-ready team is on your agenda, RangeForce should be as well.
Bridging the Cyber Skills Gap with RangeForce
There's a global shortage of cyber talent. RangeForce is taking action to address the worldwide lack of cyber expertise.
Yet finding qualified individuals for these roles can be like hunting for unicorns—especially when considering emerging fields such as threat hunting or reverse-engineering malware.
Without a talented workforce armed with the latest knowledge about potential threats, companies face increased risk of damaging attacks. This isn't just speculation—it's reality backed by industry factsheets and numerous executive biographies echoing similar sentiments.
Success Stories: Addressing the Gap Head-On
Faced with this daunting scenario, many organizations turn to the RangeForce platform to bolster their defenses against latest threats. See how Dataport uses RangeForce to upskill their SOC team.
We're living in an age where digital proficiency isn't enough; one must stay ahead of continually evolving network security norms and possess keen understanding of firmware security issues amongst others topics—to truly thrive. It's about time we got serious about bridging the cyber skills gap—and with RangeForce leading the charge, we're making great strides towards this goal.
Data Protection: A Top Priority
Safeguarding personal information is another cornerstone of the RangeForce mission. Data security takes center stage as they fully comprehend that trust hinges upon how well user data is protected.
To make sure your sensitive information stays safe, RangeForce employs robust measures complying with industry best practices and relevant regulations around data protection and privacy laws like GDPR. Details can be found within our privacy notice. So whether you're threat hunting or reverse-engineering malware on the labs' real-world scenarios, rest assured your private info remains secure.
In the end, RangeForce's commitment to privacy reflects their core belief: building a cyber-ready world should be an effort that respects user's trust. So you can focus on what truly matters - enhancing your cyber skills and tackling the latest threats in cybersecurity head-on.
RangeForce FAQs
What does RangeForce do?
RangeForce provides a realistic, scalable platform for cybersecurity training, enhancing cyber skills and resilience while cutting costs.
Is RangeForce worth it?
Absolutely. With its unique features and real-world scenarios, RangeForce offers invaluable hands-on experience that can significantly boost your cybersecurity capabilities.
Is RangeForce free?
No. However, users can access a small portion of the platform for free via the RangeForce Community Edition.
Conclusion
What a journey we've had exploring RangeForce, the cyber skills platform that's redefining how we train and equip our teams to combat the latest threats.
Our game-changing approach lies in our challenge-based content, using real-world scenarios to keep us on our toes. Always pushing boundaries, always expanding horizons.